From clubs to dive bars, full moon parties to Pub Street, Cambodia truly comes to life after dark. Here are our tips on how to stay safe.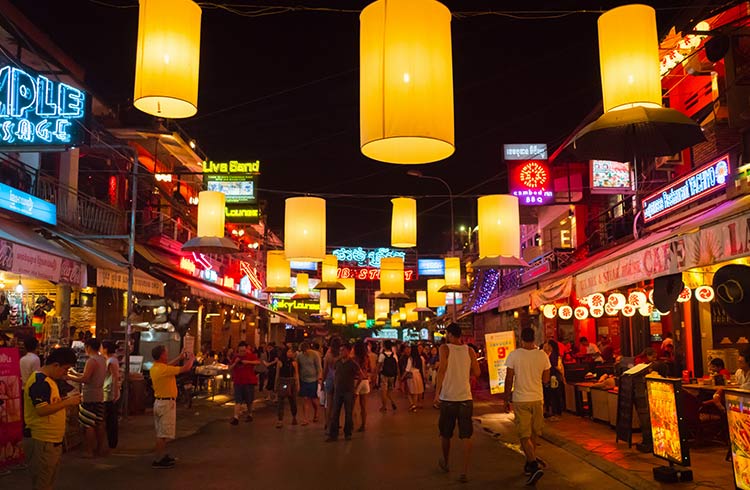 1. Nightlife in Cambodia
Phnom Penh
Cambodia's capital has a glistening array of options for a night out including fancy places to eat, drink and party plus plenty of backpacker bars and cheap eats on the streets alongside the river. For those looking for something more low key, there are several night markets, including alongside the river on Sisowath Quay, with street food and all the usual tourist fare. Alternatively, you can also visit the new upmarket Jet Container Night Market, with pop-up restaurants, bars, and stores, and is well worth the visit alone.
Siem Reap
Famous for its Pub Street, Siem Reap also has an array of bars, pubs, clubs, and eateries to suit any style and budget. While a walk down Pub Street can be fun for the spectacle alone, if it's not your scene, there are also plenty of bars on the side streets like Sok San Road, Steung Thmei Road, and The Lane. Be wary of the usual scams, beggars, and groups of street kids.
Sihanoukville
Originally the seediest part of Cambodia, these days Sihanoukville is in the midst of a Chinese upheaval, with the old beach bars being demolished to make room for giant casinos which seem to be popping up everywhere. There are still pockets of debauchery – if that's what you're looking for – but it's not really recommended for a night out. In fact, these days you're better off skipping Sihanoukville altogether and making your way to the islands from Otres instead.
Otres
A short tuk-tuk ride away from Sihanoukville, Otres Beach is a great place to spend a few days- and nights! Home of the Saturday night Otres Market- a night market featuring live music, food and craft stalls, and Kerfuffle, the famous all-night rave in the middle of the jungle, along with nightly parties and plenty of bars, Otres has a lot to offer the traveler looking for a good time- including starry skies and bioluminescent plankton!- with less of the problems that befall the bigger cities. Be careful when taking tuk-tuks between the beaches and the village at night, and definitely don't leave your valuables on the beach if you pop for a late night swim.
Koh Rong
The beautiful island of Koh Rong is as famous for its chill-out vibes as it is for its nightlife, including a monthly Full Moon Party on Police Beach. Leave your valuables behind, try not to leave your drinks unattended and avoid walking home alone. There have also been several drug busts and reports of visitors being thrown in jail, so it's best to stick to the booze.
2. Personal safety tips
While the Kingdom can seem like a friendly and safe place during the day, it's generally best not to walk anywhere alone late at night. Be cautious when taking tuk-tuks or motorbike taxis solo as well.
Try to go out with friends or fellow travelers so you can relax more with someone watching your back. Leave valuables and bank cards at home where possible, and watch out for pickpockets, bag snatchers, street beggars, and drunks.
3. Drink spiking in Cambodian bars
While drink spiking isn't as common as pickpocketing it does happen, local police have reported drink spiking incidents occurring in the coastal town of Sihanoukville, particularly in bar venues frequented by travelers.
There are things you can do to avoid falling victim, waking up hours later and wondering where your valuables have gone.
Always buy your own drink
Keep an eye on your drink when interacting with groups
Finish your drink before going to the toilet
Don't get too hammered so you forget the above rules
If you feel yourself getting drowsier than usual, leave immediately and get help. Move to a safe place and contact your travel insurance emergency assistance
If you feel yourself getting really animated and speedy, your drink might have been spiked with Yaba. Known as the "Madness Drug", this powerful stimulant is designed to keep you drinking.
4. Things to avoid
Drugs
Drugs in Cambodia rarely are what they are meant to be. Despite a no-tolerance law, there is a big problem with crystal meth/ice/yaba in the kingdom, and it's often marketed as speed or MDMA. Drug-related deaths are not uncommon, with powdered heroin being sold as cocaine and dangerously unregulated pharmaceuticals causing serious illnesses.
Police sting operations could land you in jail or see you being marched to the ATM for even the smallest trace of marijuana, so it's always best to avoid them when it comes to illicit substances.
Drunk drivers
Drink driving is a big problem in Cambodia, especially with people on motorbikes and big cars. With the increase in vehicles on the roads, accidents are becoming even more common. Don't drive drunk, always wear a helmet when riding a scooter or bike and be extra wary when you see big trucks and cars coming from the other direction as they generally drive down the middle of the road at high speed with their headlights on full.
Prostitution
After dark, many of the tourist areas in Cambodia's cities come alive with a plethora of Asian beauties plying their trade on an open market.
These love-you-long-time girls are the stuff of legends, but a night with one of these lovelies may leave you with more than just a lasting memory. Unfortunately, Cambodia has a high HIV rate particularly among sex workers.
The practice is so common that is actually harder to find a street that doesn't have a few call girls propping up the local buildings. And with pimps in the background waiting to force a sale, even approaching one of these girls is likely to cost you, so it's best to stay away.
More often than not, a polite "no" is all it takes to get rid of them, but if that isn't enough, just head into the nearest westernized bar where generally speaking, locals won't venture.
Girly bars
There is a notoriously seedy element to some of the bars and areas in Cambodia, especially hostess/girly bars. If the scantily clad women don't give it away, then the look of the clientele might. These are best avoided, as many women are exploited plus scams, drink-spiking, and pickpockets.
Be wary of any locals dancing with you in bars and clubs or paying you a lot of attention. You may get your wallet swiped, your heart stolen, and a knock on your door the next day when she shows up looking disheveled with several mean-looking family members in tow, claiming assault and forcing you to go on a walk to the nearest ATM.